To view this video please enable JavaScript, and consider upgrading to a web browser that supports HTML5 video.


Tufty time sofa U shape modular
Tufty time sofa U shape modular
(Big group corner sofa sets inspired by B&B Italia designs replica reproduction)
TF014+TF001 + FT002+TF007 +TF022+TF025+TF025
Velvet fabric or linen fabric, high density sponge, solid wooden frame
Tufty time sofa U shape modular
Product Description:
The Tufty-Time sofa U shape series, one of B&B Italia's most consolidated successes modular U shape sofa, finds effective answers to the themes of modularity,
comfort and removable covers. The Tufty-Time modular system starts with an ottoman as the basic piece, which is then accompanied by central, corner and terminal elements with an option of a low or high armrest. The elements are used to invent traditional sofas, sofas with chaise longue, corner sofas and island elements that provide a 360° seating solution. Cozy in its more accentuated depth, Tufty-Time becomes a meeting place, a welcoming refuge where people can just relax. With its fabric or leather upholstery, Tufty-Time offers a more contemporary take on the traditional Chesterfield and capitonné sofas, with a freer and more informal lifestyle.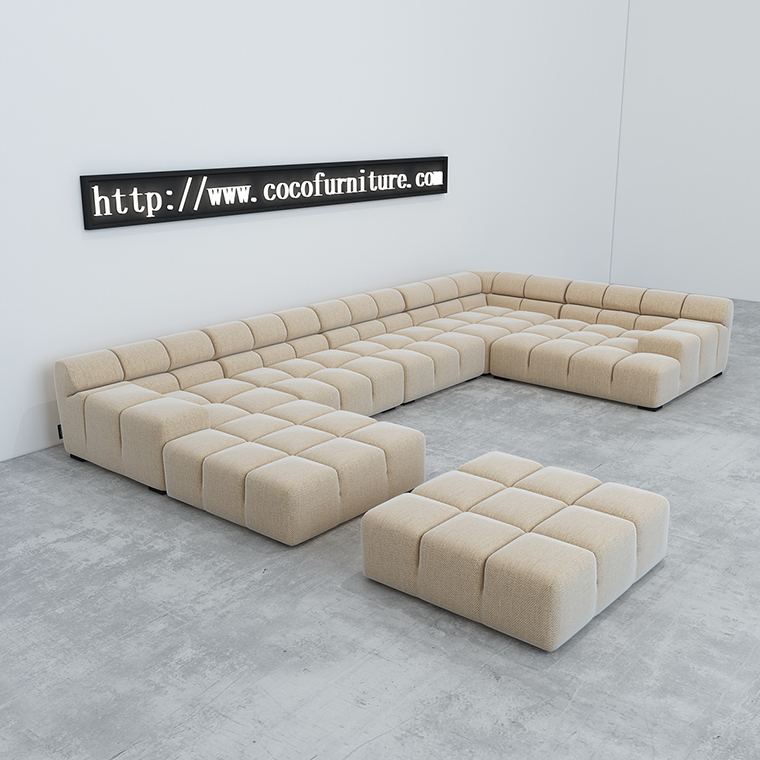 Stunning and gargantuan modular "Tufty-Time" Sofa designed by Patricia Urquiola for B&B Italia. The biggest large U shape sofa which can be configured as desired. These light beight modulars is a super large U shape sofa. These piece has been newly reupholstered in a super soft pre-washed denim which will keep getting softer with age, like your favorite pair of jeans. Fantastic, like-new condition Such a terrific sofa, with super deep seating - basically a jungle gym for your living room.