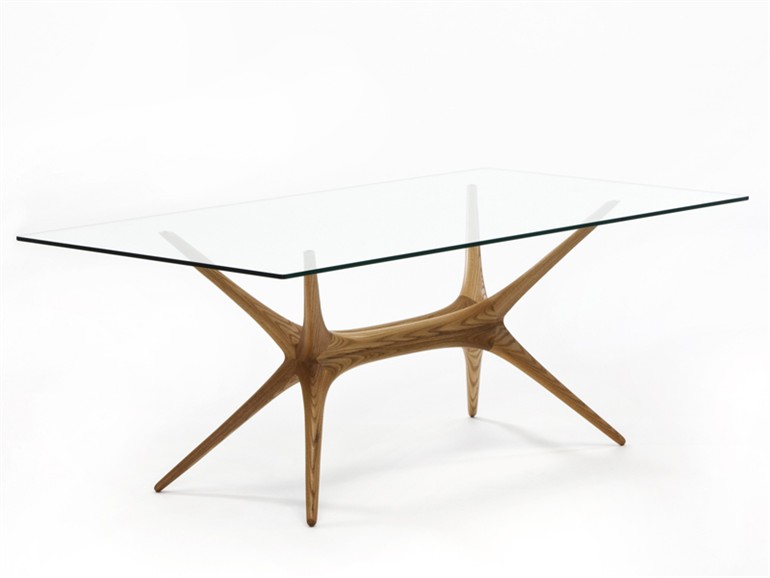 X-Frame dining table
Designer:Tapio Wirkkala
Item No.: X-Frame dining table
AMERICA USA IMPORTED ASH solid wood or black painted ash with tempered glass,
size:160*80*75h
X-Frame dining table
Product Description:
Design Tapio Wirkkala, 1958
Glass, laminated birch/cherry, solid elm, solid oak
Made in Finland by Artek

The X-Frame table was originally designed in 1958 by, the 'genius of Finnish design, Tapio Wirkkala and again reissued in 2008. The slender and highly sculptural form adds a distinct look and style to any space.

Born in Hanko, Finland, Tapio Wirkkala is known as the versatile genius of design. His contribution to design includes everything from glass products to the design of banknotes and graphic art. During his career, Wirkkala participated in many international exhibitions, as well as being the artistic director of the University of Arts and Design in Helsinki for many years. He has won a large number of awards, including three gold medals at the Triennale in Milan in 1951, followed by another three in 1954.

The X-Frame table is available in your choice of solid elm, solid oak or laminated birch/cherry with a natural lacquer. The top is tempered glass. Each table is hand made and numbered.